A succesful conference
SURVEILLANCE: AMBIGUITIES AND ASYMMETRIES
Hosted by University of Barcelona and CCCB
Organized by Eticas Research and Consulting
Supported by the Surveillance Studies Network
Thursday 24th – Saturday 26th April 2014 
Thank you all for coming!
The SSN 2014 was a success and a very enjoyable experience. Thanks to the participants for coming and contributing to this event.
Experts from everywhere gathered in Barcelona for three days. It has been a unique opportunity to get involved in the current debates about Surveillance and its resulting ambiguities and asymmetries at a very international level.
Conference documents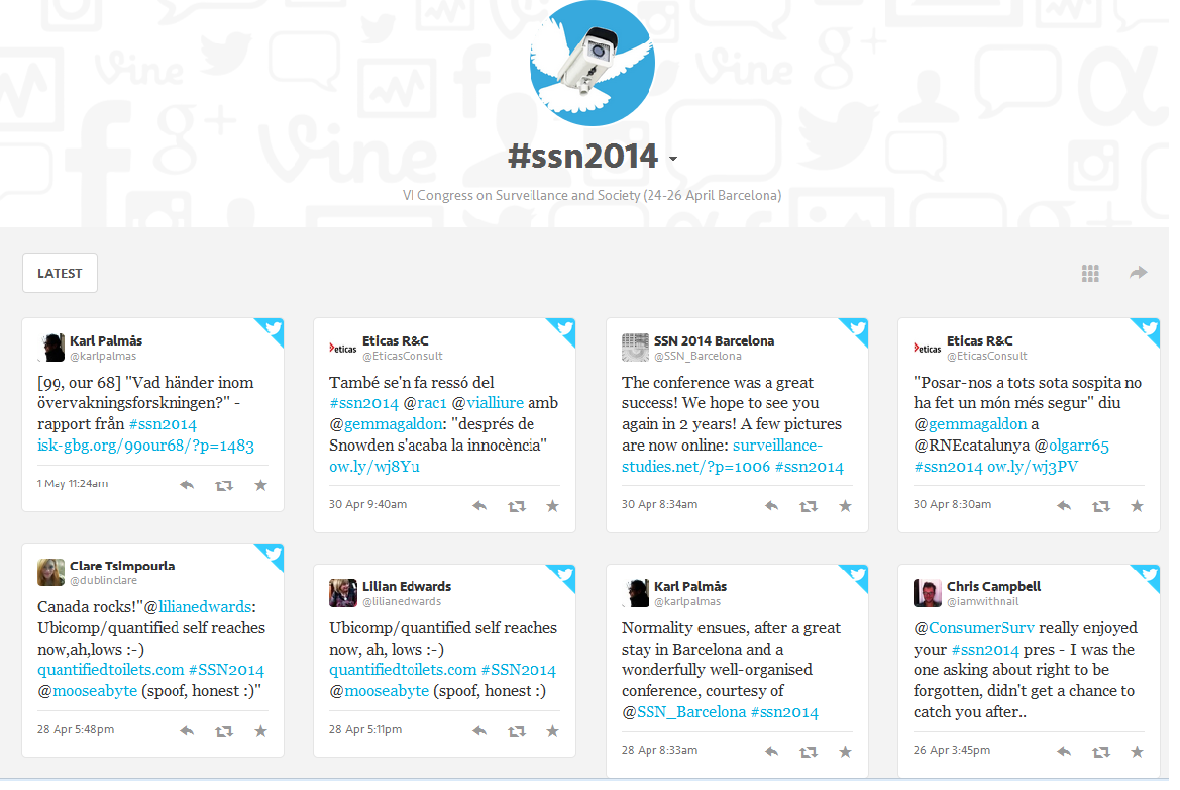 You can download the full programme and the booklet with all the abstracts and authors' contact details, or revisit the videos of the "Surveillance after Snowden" panel.
The conference has had a noteworhty impact at the local media. Several newspapers and radio programmes have mentioned and covered our conference. The press-clipping is available in Spanish (note it is still a draft and will be updated in the next few days).
The meeting was also alive in the social networks, particulary in twitter under the hashtag #ssn2014. You can see the 6th conference on Surveillance & Society tweet by tweet:
Surveillance: Ambiguities and Asymmetries
Contemporary surveillance is characterised by ambiguities and asymmetries. Surveillance results from different desires and rationales: control, governance, security, profit, efficiency but also care, empowerment, resistance and play. Surveillance is never neutral. Surveillance is always about power and that power is increasingly asymmetric. Surveillance practices are also changing and as 'smart' surveillance systems proliferate utilising and generating 'Big Data' new forms of ambiguity and asymmetry arise. These are the main topics at a glance: